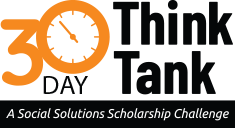 Select Research Materials & Content
The following resources have been selected and procured specifically for the Teen Think Tank Project's 30 Day Think Tank December Scholarship Challenge in an attempt to help you generate ideas, frame your policy positions, and jump start your research. These articles, videos, and podcasts are password protected and only available to registered 30 Day Think Tank Participants.  
To access these materials, please refer to the 30 Day Think Tank Discord Server for password and access information. 
If you have not yet registered for this month's Social Solutions Scholarship Challenge, please register prior to December 17, 2021 in order to gain access.