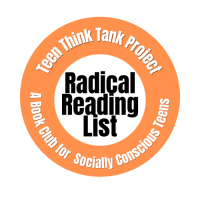 This January, our FREE book club will meet every Tuesday to discuss our featured book: Autobiography of Malcom X. 
A Socially Conscious Book Club
In February 2021, the Teen Think Tank Project had the pleasure of meeting with former NBA star and activist Mahmoud Abdul Rauf to discuss inequality in America.  This encounter proved to be a transcendent moment for our inaugural research cohort as it caused them to re-imagine what it means to advocate for change.  With a spirited discussion that focused on the teachings and writings of Rev. Martin Luther King, Jr., Huey Newton, and Cornell West, Mahmoud shed light on ideas that opened the hearts and minds of our teenage change agents.
Of all the concepts the group discussed that day, it was the concept of radical change that had the greatest impact on our research associates.  Not radical in the sense of violent antagonism, but the notion of challenging the status quo through conversation, discourse, and courage.  Perhaps American author and activist bell hooks articulated the concept best when she said,
So, if you are a teenager that wants to explore the works and words of the authors, activists, and advocates who encourage a change to the status quo in order to make the world a better place, then the Teen Think Tank Project's Radical Reading List Book Club is for you!
Teens who want to learn about concepts and ideas dealing with equity, justice, diversity, and inclusion.
High school students with a passion for social justice issues.
Individuals who want to share their ideas and openly communicate with their peers.
High potential students who want to experience what it is like to read advanced material and discuss concepts in search of solutions to real world problems.
Teens who want to develop a voice in the world they will inherit.
Participate in a FREE student-led book club run by members of the Teen Think Tank Project community.  
Read a different award-winning non-fiction book every month.
Meet on the 4th Tuesday of every month to discuss a different assigned text dealing with social justice issues.
Attend optional virtual weekly discussion sessions where students will break down topics related to the assigned reading and share their perspectives in a safe and moderated environment. 
The Next Book Club Meeting Starts In:

January Book Club Details:
Every Tuesday in February
Virtual, Teen Think Tank Project's Discord Server (invite only)
The Autobiography of Malcolm X, as told to Alex Haley
*students must supply their own book
The "Radical Reading List" Explained
Our program's first real introduction to the process of becoming an agent of change came when social activist Mahmoud Abdul Rauf engaged in an impassioned and wide-ranging conversation with our Racial Equity research cohort. To say the conversation inspired our team would be an understatement. It motivated them to embrace the role of change agent, including the requirements of searching for wisdom through the teachings of other and challenging the status quo. We thought it only fitting to launch our book club with the the book that started Mahmoud Abdul Rauf on his journey to becoming a teacher, orator, and activist: The Autobiography of Malcom X.