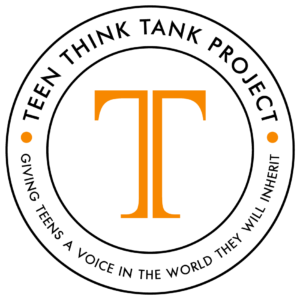 Asbury Park, April 15, 2021 – Nine exceptional, socially conscious high school students from Cranford High School, New Jersey and Archbishop Wood High School, Pennsylvania completed their 12-week residency as Research Associates at the Teen Think Tank Project by presenting a documentary, policy proposal and children's book concept to address racial injustice in sports and society.
"You join the Teen Think Tank because you want to be a part of something that will create change. You are an agent of change. The Teen Think Tank is a once in a life-time opportunity." – Jared C., High School Honors Student, Class of 2022
On Tuesday night, April 13, 2021, nine teenagers unveiled their plan to mend societal divisions and create sustainable change at the virtual Social Protest & Sports Policy Framework Launch Party.  The research findings and subsequent policy recommendations presented was the culmination of the students' work to absorb, analyze and synthesize the impediments to social protest in sports.  As Research Associates, students dug deep into the topics of sports, protest and social justice to gain a factual and diverse understanding of the complex social, political and business issues that have thus far stymied sustainable change.  Although they were initially tasked with creating one piece of research content, the ambitious students showcased three mediums for conveying their findings and promoting social justice.
The Launch Party highlighted a documentary featuring Teen Think Tank Project interviews and discussions about racial injustice and sports with former NBA player turned social justice activist Mahmoud Abdul Rauf, WNBA champion Essence Carson and internationally recognized expert on sports and social issues Dr. Richard Lapchick.  An in-depth presentation followed the documentary, underscoring the complex relationships between sports, society, business and politics.  The students' proposed creating a Sports League Coalition, inclusive of players, coaches and executives from all leagues, to allow for a united platform to create sustainable solutions for social injustice in sports and society.
Lastly, the students revealed their concept for a children's book as a creative way to foster change by teaching an even younger generation about social justice.  The book's anticipated publication is this fall.  The book, entitled Tony and Tonya tells the story of a Latino boy and Black girl who are both 8th grade basketball players and explores social inequalities to create age appropriate dialogue about inclusivity.
The Winter Research Cohort included high school students Jack Baranoski (Archbishop Wood), Jared Cannon (Archbishop Wood), Jeremy Cimino (Archbishop Wood), Gwyn Craney (Archbishop Wood), Nolan Eichorn (Archbishop Wood), Jack James (Archbishop Wood), Rohan Rathod (Archbishop Wood), Savannah Riera (Cranford) and Kyra Turpie (Archbishop Wood).  The students' work can be viewed at www.teenthinktankproject.com/21winter.
Teen Think Tank Project is a student-run policy institute that fosters critical thinking, research techniques, and problem-solving skills to develop policy frameworks for real-life issues and empowers students to become future changemakers. Teens find their voice and create change at www.teenthinktankproject.com or @teen_thinktank.