The Teen Think Tank Project's Change Agent Academy assembled a team of teen research associates in June 2022 with the goal of exploring issues causing global warming and the impediments preventing meaningful climate reform.  Research Associates spent 60 hours over the course of 12 weeks in conversation with subject matter experts, researching, reading, and hosting roundtable discussions to create a policy framework that will discuss the major societal and systemic issues that are hindering our ability to address the issues of climate change. 
Addressing the Impediments Preventing Climate Reform
On June 23, 1988, Dr. James Hansen of NASA announced to the United States that the atmosphere was warming due to the actions of humanity (Brulle, 2018). This day, the world began to comprehend that if their behavior did not change, their species would not survive. Almost 35 years later, the population faces the same problem, and many similar obstacles stand in their way. Society is combatting setbacks in all areas of existence: educational, economic, and political. These impediments are standing in the way of a healed ecosystem. By diving into their ideological standpoints, one can better perceive the catastrophe known as "climate change."
Millions of Americans have been misguided and misinformed by politicians, fossil fuel companies, and political action groups that attempt to divert attention from the fact that greenhouse gasses are causing global warming throughout the world.   In working towards a more environmentally friendly Earth, we must work to eliminate the educational impediments that are causing Americans to take the issue of global warming much less serious than it is.
Misinformation is not the only issue preventing sustainable climate reform. After all, we operate in a free market economy that has put fossil fuels at the center of our supply chain for centuries.  However, if a free market economy played a significant role in creating climate change, it is reasonable to think that the government and consumers can use the same system to create change that drives the global society towards or away from sustainable growth.  By exploiting the free market in the fight against climate change, the U.S. can lead the world into a new age of sustainable development. 
A strong understanding of sports as a business is essential to understanding sports. This business is a multifaceted one with owners, fans, and of course the players. Businesses make the decision best for their financial interest, and when sponsors leverage the power they have to influence the decisions made in the sports industry, they can retract sponsorships because of a political stance taken by a sports organization.
To see real and meaningful climate reform, we must address and eliminate misinformation in our networks. We need to hold our local, state, and federal representatives accountable for their actions regarding the environment.  We must invest in green resources and economies on a local level where we can increase efficiency and maximize the impact.  We must think about our actions' impact on the global community, but we must make intelligent decisions and enact effective policy on a local scale to truly make an impact. It all starts with us; together, we can save our world.
Learn about the teen change agents who dedicated their entire summer to changing the educaitonal, economic, and political landscape in an attempt to save our planet.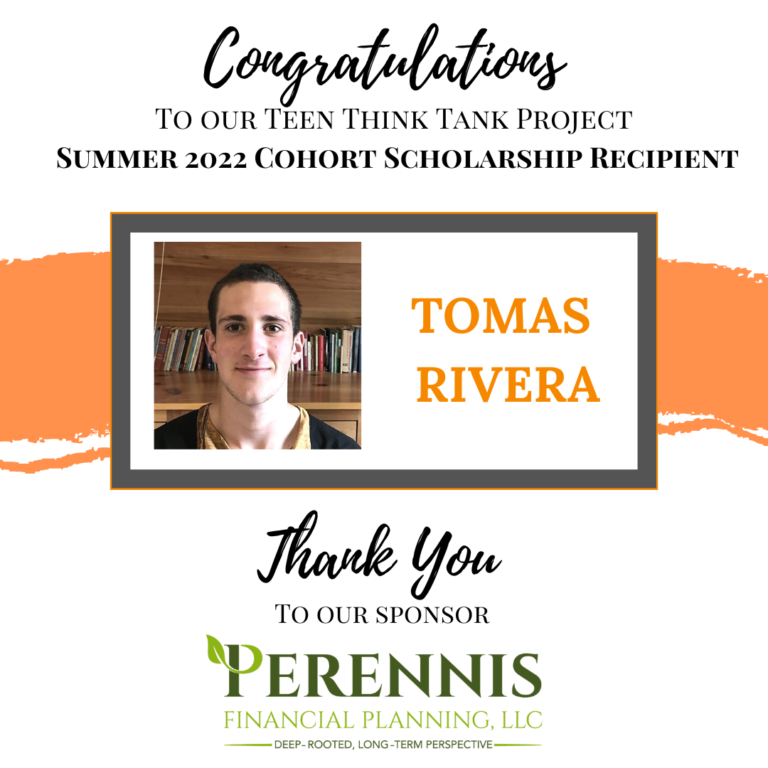 Each session, the Teen Think Tank Project awards a cash scholarship to the research associate that best exemplifies the values of our community. Since all of our talented cohort members are eligible to apply, awarding the scholarship is an extremely difficult task. This session was no different. We thank all of our research associates for applying, commend our finalists Jessy Dong and Kamayani Richhariya for their hard work and dedication, and congratulate our winner Tomas Rivera for his commitment to change!
We would also like to extend our gratitude to Perennis Financial Planning for underwriting the scholarship award. Thanks to Mary Pascarella and the team at Perennis for their continued support. We could not have done it without you!
Matthew DeSantis is the Co-Founder of the Teen Think Tank Project.  He has worked with socially conscious teens from across the globe to explore social justice issues ranging from climate change, racial equity, access to healthcare, financial stability, and educational equality.  His has allowed him to connect with over 100 teen change agents and subject matter experts who are passionate about their work to solve societal issues.  Through his work, he has co-authored and edited four policy framework papers and facilitated a number of panel discussions and presentations aimed at elevating the voices of teen change agents.