In December 2021, former socialite Ghislaine Maxwell was convicted on several charges of sex trafficking.  Maxwell trafficked and groomed underage girls for sex with her former, now deceased, partner Jeffrey Epstein.  The case produced gripping headlines and brought sex trafficking more into the forefront of national conversation. 
While there is has been extraordinary fascination with Maxwell and a case that ensnared some of the words most prominent people, what was lacking from the conversation was the fact that human trafficking is an epidemic with more than 40 million people are victims of modern slavery.  This includes forced labor and sexual exploitation.1  In the United States more than 40,000 people are living in modern slavery.
Human Trafficking
Human trafficking refers to "a crime whereby traffickers exploit and profit at the expense of adults or children by compelling them to perform labor or engage in commercial sex."2  Humans are trafficked for forced labor in industries such as construction and agriculture or for domestic servitude.  They are also trafficked for sexual exploitation, often in the adult film industry, prostitution rings, or as child brides. 
Women are disproportionately impacted by trafficking, making up 71% of all victims.3 The International Labor Organization estimates that 99% of female victims are trafficking into the commercial sex industry, and 58% of victims into other sectors.4 Women and children are highly susceptible to trafficking in conflict zones or following natural disasters when people are displaced and impoverished and there is a decrease in security.  Women are also tricked into forced labor by traffickers who promise them a job and better financial opportunities; they are then trafficked and sold into slavery.
Human trafficking is a $150 billion industry.  That's right, the trafficking and enslavement of humans generates $150 billion each year.5 Every country is impacted by this industry, whether they are a country of origin (where the victim is trafficked from), transit (where the victim passes through), or destination (where the victim is ultimately forced into labor, sexual exploitation, or another form of slavery).  Trafficking destabilizes regions, funds terrorist and criminal organizations, and violates individuals' human rights.
This may come as a surprise, but victims of human trafficking exist in our everyday lives.  Victims are trafficking can end up in nail salons or adult entertainment establishments.  The clothes we wear can be manufactured in sweat shops and facilities with forced labor.  Trafficking victims can be enslaved by homeowners as domestic servants or working in agricultural fields whose products end up on our grocery store shelves.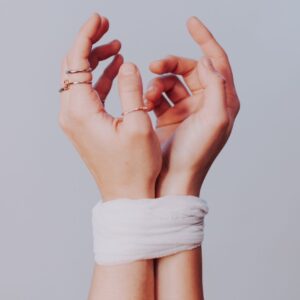 National Slavery and Human Trafficking Prevention Month
President Obama declared January as National Slavery and Human Trafficking Prevention Month in 2010 via presidential proclamation.  Ten years prior the United States solidified its commitment to fighting human trafficking with the Trafficking Victims Protection Act.  In January 2022, President Biden reaffirmed his administrations commitment to recognizing the month and combating human trafficking.
How can you help?
National and international organizations are working to prosecute traffickers and rescue victims.  There are also several organizations that support survivors and raise awareness to fight human trafficking.  Here are a few ways you can help to end modern-day slavery.
Be Aware. The more you know about human trafficking and the more aware you are about the indicators of trafficking, you're better equipped to identify and help a victim.  A few indicators of a trafficking situation include

Signs of physical abuse
An inability or reluctance to speak in front of an employer
An individual under the age of 18 in prostitution
Earning little to no pay
Learn about other ways to fight human trafficking at from the U.S. Department of State. 
Know where to get help. If the situation is emergent, call 911.  The National Human Trafficking Hotline (1-888-373-7888) is a national 24-hour, toll-free, multilingual anti-trafficking hotline.  Organizations such as SafeHorizon and Polaris help victims of trafficking.
Be an advocate. Speak with and write to you local legislators to let them know this is an important issue to you.  Ask what the elected officials are doing to combat human trafficking in their districts.
Be Informed. The U.S. Department of State Office to Monitor and Combat Trafficking in Persons releases annual reports and provides up to date information.  Similarly, the UN Office of Drugs and Crime releases the Global Report on Trafficking in Persons and ranks nations for their responsiveness to preventing human trafficking.
Other helpful resources for human trafficking can be found at UNICEF USA or CNN's Freedom Project.